There are about 10,000,000,000,000,000,000 insects on earth at any given moment. Seriously, that's a real number. For every one of us, there are 1.5 billion bugs.
But some of them are so horrifying, just one is too many. Here are five you want to avoid at all costs.
Japanese Giant Hornet (vespa mandarinia japonica)
From: Japan, obviously.
Why you must fear it:
It's the size of your thumb and it can spray flesh-melting poison. We really wish we were making that up for, you know, dramatic effect because goddamn, what a terrible thing a three-inch acid-shooting hornet would be, you know? Oh, hey, did we mention it shoots it into your eyes? Or that the poison also has a pheromone cocktail in it that'll call every hornet in the hive to come over and sting you until you are no longer alive?
Think you can outrun it? It can fly 50 miles in a day. It'd be nice to say something reassuring at this point, like "Don't worry, they only live on top of really tall mountains where nobody wants to live," but no, they live all over the goddamned place, including outside Tokyo.
Forty people die like that every year, each of them horribly.
More scary shit:
Here's how the Japanese hornet treats other insects (and would presumably treat us, if we were small enough). An adult hornet will fly miles to find some squishy shit to feed to its children. Often times, it finds its food in, say, a hive inhabited by thousands of bees.
What to do? Well, Vespa japonica sprays the nest with some of the acid/pheromone and brings in reinforcements, usually consisting of 30 or so fellow hornets. They then descend upon the beehive like an unholy plague of hell-born death engines and proceed to make this world a scary goddamned place. This is maybe 30 wasps against 30,000 bees and the 30,000 bees do not stand a chance.
Behold the hornets systematically seize them with huge, wicked jaws and literally fucking cut them apart, one by one by one by fucking one. In three hours, there are piles of limbs and heads and just fucking bits of things that could possibly have been alive at one point, and the hornets have stormed the hive and flown away with all the bee's children. Who will then be eaten.
Nature is fucking hardcore.
Bullet Ant (Paraponera clavata)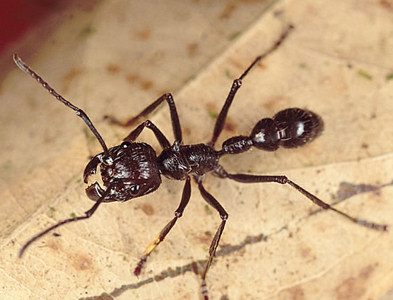 From:
Rainforests from Nicaragua to Paraguay
Why you must fear it:
It's a full inch long, it lives in trees and thus can and will fall on you to scare you away from its hive--the one you didn't know was there, because it's in a fucking tree. Before it does this, it shrieks at you. This ant, you see, can shriek.
It's called a Bullet Ant because its 'unusually severe' sting feels like getting shot. On the Schmidt Sting Index, Bullet Ants rate as the number one most try-not-to-shit-out-your-spine painful in the entirety of the Kingdom Arthropoda.
Also--and we do feel the need to stress this--they fucking shriek at you before they attack.
More scary shit:
Are you the sort of person who likes to think of yourself as tough? A "badass," perhaps? "Hard," as they say?
Some of the indigenous peoples of the area use Bullet Ants as part of this initiation-to-manhood ceremony that they do. You know the kind we mean, with us it's like, a big party and your relatives give you money and everyone loves you and is so proud of you? Yeah with them, it's these special leaf sleeves with hundreds of bullet ants woven into them, stingers-inwards. They put them on and are immediately stung to holy fucking bejeezus by, and this is important, hundreds of Bullet Ants woven into the sleeves, stingers-inward.
The goal is to leave them on for 10 minutes, after which their arms are stiff, useless lengths of twisting agony, their bodies wracked with uncontrollable spasms for days. And in order to be actually pass the ordeal and become a man, they have to do it 20 fucking times.