The action figure industry is based on one idea: that young boys don't exactly have high standards when it comes to quality.
Remember the action figures from your childhood? The ones that gave you hours of unbridled entertainment? As it turns out, some of it was so crappy it borders on depressing.
When a toy manufacturer markets an action figure based off a crazed killing machine, we have to assume they aimed it at children who were told bedtime stories that started off with "So, there I was... knee-deep in Charlie guts... "
Or maybe, as brutally violent as the films are, John Rambo still appeals to the 8-year-old in all of us. He rebels against a world that, as Will Smith said best, parents just don't understand. We all felt like Rambo at one time or another, just wanting to go over to our friend's house to play, causing us to throw a murderous temper tantrum so monumentally destructive no amount of time-out can clean the blood from our hands, unless it involves a 4-by-4 concrete cell and a bucket in which to defecate. Figuratively.
Worst Toy in the Line:
This honor actually goes to two horrendously designed figures. First, there's the Rambo figure (appropriately named "Rambo") which is strapped with oodles of killing mechanisms, none which can disguise the fact that he looks like a greased-up cage dancer that just wants to bump and grind his shell-shock away.
Then there is the "RAMBO ONE-MAN ASSULT JET" which is more Rambo then jet.
There is something inherently wrong when you see a man piloting a jet that has replaced a conventional cockpit glass dome with a plastic welding visor, and the typical flight suit with a more breathable shirtless look. When you see a man flying at you in a vehicle that offers about as much protection as a Harley-Davidson, you know the bare-chested psycho steering the thing doesn't care about his own life but, rather, the amount of people-chunks that will inevitably obstruct his view of the slaughter.
Also, the jet, like most of these Rambo toys, is loaded to the sweaty mullet with unnecessary missiles, grenade launchers and guns, all of which goes against the underdog spirit of the whole franchise. All Rambo really needs is an ejector seat and a survival knife with which to rain steel justice upon those of the evil persuasion. In the first movie, the only weapon he's given at the outset of the movie is the fucking forest. This is why a Rambo toy line is so ill-conceived. To make money, every action figure needs tie-in toys, bad ass, death-weilding versions of the Barbie Dream House. But the only Rambo toy you should really need is John Rambo. To put it another way, it's tough to justify tie-in toys when your protagonist only needs his bare hands to punch someone's head off.
What probably started as a slightly clever play on words that should have never made it as far as a toy designers' self-congratulatory smile exploded into a full-on line aimed at the portly, but purchased by all. They must have figured that America's rotund youth would happily go on magical adventures with anthropomorphic hot dogs and donuts while their more athletic peers played outside.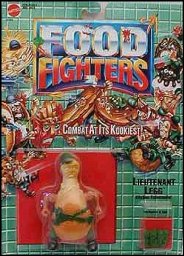 "Combat at its kookiest!" was Mattel's tag line for the toys, but the figures actually came with little plastic guns to shoot each other with. So it wasn't a situation where Major Munch (the donut) was squirting wacky cream filling at Private Pizza. No, the implied combat was done with real bullets. The victims merely looked kooky, which does not make the combat itself "kooky" under modern rules of warfare.
Mean Weener (a sad little fellow with a dripping frankfurter hanging loose from his lips) seems to realize the tragedy of their situation.
"Taco Terror" has seized on his role as warrior and meets the enemy with a scowl, unaware that his tiny helmet is protecting nothing, and only a layer of shredded cheese is protecting his guts from Weener's .45 caliber hollow points.
Worst Toy in the Line:
The rest of the figures sport Taco's crazed, wide-eyed expression of war-time rage, with the exception of Sergeant Scoop. A half-melted chocolate and vanilla ice cream cone that, judging by his googly eyes and retard smile, was drafted into this war of dinnertime dominance straight out of his "special care" institution.
One can venture to guess that if there were to be a big budget Hollywood adaptation of "Food Fighters" Sergeant Scoop would be the dim-witted, yet lovable solider that we grow attached to only to watch him melt away in a hot fryer grease explosion. The Bugerdier General (a hamburger with arms and legs... duh) would assume a grim voice and say--in voice-over: "It's not whether you win or lose, it's how you slurp you cone!" Actual words from Scoop's packaging.