Celebrities are people just like us. They eat just like us, they sleep just like us and they put their $700 jeans on one leg at a time just like us. So, it should come as no surprise that some of them start batshit insane blogs like some non-famous people do, too.
None are batshittier than these.
Rosie O'Donnell - "R Blog"
If You Must Read It
You can find it HERE.
Rosie O'Donnell's "R Blog" serves as a chronicle of her waning sanity. This is evident in the borderline incoherent writing style that she employs when discussing any and everything. For example, have a guess at what she's talking about in this post ...
"as the lines all blur
together
into the brightest yellow
i saw a light
they say
those who went and came back
follow it
if u can"
Ok, time's up. Did you say "Oprah?" Congratulations! You're goddamned crazy also!
As an outspoken lefty, her blog is surprisingly light on the Bush bashing. But, when she does decide to copy and paste something someone else said about Bush into one of her posts, the fire and passion displayed when she occasionally adds a sentence of her own at the end is truly inspiring. Such as when she pasted this bit from the Washington Post, then declared to America, "we r lost."
The rest of the entries provide a disturbing look into the mind of a former comedian (and we can't stress the "former" part enough) with way too much time on her hands now that her gig on The View has reached its merciful conclusion. Among the various nonsensical posts are several videos of a squirrel Rosie has decided is named Shady who, for your enjoyment, performs several acts of animal cuteness such as eating, staring and walking around.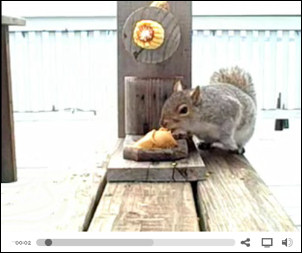 ARE YOU NOT ENTERTAINED!?!?!
Keep in mind, Rosie is a married mother of four adopted kids. That she still fits in time to always be looking out the same window, camera at the ready, waiting for a fucking squirrel to show up so she can post a video of it on her blog suggests that the early stages of Jack Nicholson in The Shining-style cabin fever may have already set in. No work and all play makes Rosie a very crazy broad.
Words of Wisdom:
"today
out in the bay
there r no words
really
80 % say conspiracy re jfk
hmmmm
gonna get a ? of the day button
this will b fun
maybe a graph
pie chart
something
dolphins
a nudge
from above
4 me"
If You Must Read It
You can find it HERE.
Pat Sajak has spent the better part of a quarter century watching garden variety dumbasses stumble over fourth grade-level crossword puzzles. In reading through some of the entries on his blog, you get the sense that this daily interaction with the dregs of society has instilled in him a loathing and mistrust of common folks that has him teetering on the brink of a Michael Richards-style breakdown at any moment.
In fact, if the entry titled "The New Big Brother" is any indication, it may be his biggest fear. In a diatribe that wouldn't have been out of place in the Unabomber Manifesto, Pat goes into way too much detail about how Big Brother, the omnipresent privacy invading government entity from the George Orwell classic 1984, has already arrived. But, and here's the rub, it's not a government entity. Nope, it's YOU! You and your camera phones and your YouTubes spreading vicious untruths about decent, hard working, celebs behind the anonymity of a computer and a screen name!
Even worse, he argues, the government now has to live in fear of the people. Preposterous! In another post titled "The Dark Side of the Internet," Pat rails against the idea of "online communities," arguing that if the Internet was really a community, it would have schools and shops and such. Yeah, it would be awesome if you could shop and go to school online. Maybe someday Pat, maybe someday.
Christ, has this guy actually even been on the damn Internet? But it's not just the way the regular folk yield their new fangled computer boxes that bothers Pat. In a post titled "Artificial Intimacy," he recounts a tale of a young man who dared to ask if he wore a toupee during a question-and-answer session on the set of Wheel of Fortune. He's baffled by the fans who seem to believe he, "wouldn't have a job if they didn't watch."
That's right, Pat. Advertisers paid you millions, not because anyone watched the show, but because they liked writing checks to douchebags.
Words of Wisdom:
"In addition to giving up so much of our personal lives, the new technologies have also forced us to spend endless hours on truly trivial matters. In a world without cell phones, would you really want to paste decorative wallpaper on your old telephones?"