Production companies have made millions giving children exactly what they want: whether it's to be an adult, get rich, or meet David Bowie, indulging childhood fantasies is a hallmark of family films.
Imagine the trauma those same children undergo when they're forced to realize that being an adult sucks, getting rich entails smuggling drugs in your ass, and meeting David Bowie entails smuggling drugs in your ass. Well, as children scarred by the false expectations set up in films, we say no more! Below, eight movies that are begging to be unmasked for the dangerously optimistic propaganda they really are.
What it Led Us to Believe:
1) Our parents divorce was all the result of a silly quibble that they've long since forgotten about, and all it'll take to get them back together are a few songs, a camping trip, and some shoddy split-screen effects.
2) If your parents have split up, don't bother learning to cope with it in any healthy or meaningful way. Instead, just desperately cling to the dream of a reunited family and use any form of deceit necessary to manipulate them back into a (presumably) loveless hell of a marriage.
The Cold, Hard Truth: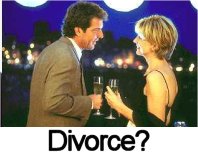 In the original version of the film, Hayley Mills plays a set of reunited twins who get their parents back together by switching places and forcing them into a meeting, simultaneously foiling the designs of the father's current girlfriend (who, it conveniently turns out, is a straight-up gold digger). Not only is this plan of Rube Goldberg-caliber complexity, it also assumes that your parents are still in love and that dad's girlfriend is a bitch he's just dying to unload. In reality, if your rich dad left his wife for a younger girlfriend, odds are she's got particular ASSets that he's not going to want to just leave BEHIND. Okay, puns over.
In the remake of the film, the story remains basically the same, but Hayley Mills is Lindsay Lohan, the dad is Dennis Quaid,
and the parents literally state that they don't remember why they ever got divorced. That's all well and good for Dennis Quaid, but our parents sure as hell remember why they got divorced, and in most cases it involved restraining orders, late nights at the office and four-hour shouting matches about undersalted meat loaf.
Damaging False Beliefs Traceable to Film:
Bursting into song is an acceptable way to express deep emotional wounds.
Our estranged Dad is in all likelihood a rugged, handsome vintner.
Somewhere out there is our long-lost identical twin, and she's an attractive preteen girl.
What it Led Us to Believe:
1) Adults spend most of their time dancing on giant pianos, getting paid to test toys, and winning beautiful women away from their boyfriends, and all we have to do to become one is locate a magic robot gypsy.
2) A good place to start? Our local carnival. Because there's nothing that will end your childhood faster than sneaking around the darkened tents of a carnival backlot and asking whoever you run into if there's anything they'd care to show a little boy. (Actually, this turned out to be a pretty effective way of ending our childhood, though no magic robot gypsy was involved.)
The Cold, Hard Truth:
In the movie Big, Tom Hanks gets paid to tell a toy manufacturer which toys kids will like. You know what that's called? Market research. You know how much you get paid to do that in real life? A handful of Cheetohs and a Styrofoam cup of Sierra Mist.
In reality, most adults make a living by selling off little pieces of their dignity to an asshole in a tie until they finally go home one night and "forget" to turn the car exhaust off in the garage. Also, gypsies aren't magic (unless looking crippled when you're not is magic) and playing the piano with your feet is a good way to get kicked out of most establishments. You really want to give up the next twelve years of your life in exchange for turning into Tom Hanks? Sure, it sounds okay, until you stop to consider that it means in a little under twenty years you'll look like this:
Damaging False Beliefs Traceable to Film:
Trampolines make good floors.
Our nagging suspicion that all the pricks we meet are just kids trapped in adult bodies, and while we slowly suffocate in our own awkward neuroses, they are marveling at the wonder of the adult world.
Elizabeth Perkins is a pedophile.