Cracked.com's New York Times Best Selling book is on sale. What follows is one of the classic articles that appear in the book, along with 18 new articles that you can't read anywhere else.
Already today you've used at least one product from a company that, at one time, worked for the Nazis. Now, in the name of not getting sued, we'd like to make it clear that we're not accusing any of the below companies of still being in bed with the Third Reich. All of them, to our knowledge, have long disavowed Hitler's regime as being both monstrous and no longer profitable.
Hugo Boss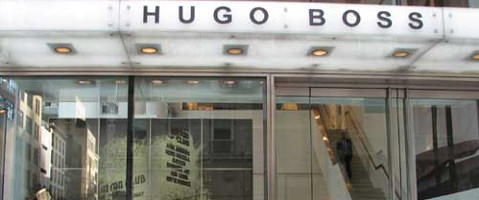 No yuppie's wardrobe is complete without their standard Hugo Boss suit, Hugo Boss dress shirt, Hugo Boss tie, Hugo Boss sunglasses, Hugo Boss cologne, Hugo Boss man-thong and Hugo Boss socks (to stuff the thong). Even if you're too poor to afford Boss' goods, you can recognize Boss ads from a mile away. They always feature serious-looking men who, despite having enough money for expensive suits, appear to be addicted to heroin. They typically wear tight clothing, and gaze at you wantonly with hollow eyes of infinite, longing that scream, "I'm attractive and I'm really very unhappy about it."
Job with Nazis:
Speaking of stern, closeted white men, Hugo Boss manufactured the sleek all-black uniforms for the Schultzstaffel, better known as the SS. While today Boss uses black for slimming effects, in the SS uniforms it was used to command respect and fear in the populace. While their guns and propensity for genocide probably handled all required respect commanding just fine, the black uniforms did soak up sunlight during the summer months, causing the wearer to sweat uncomfortably and stink like a pack of Mongolian shit-camels. Members of the Hitler Youth were also decked out in Boss wear, teaching children an early lesson in looking good whilst beating up minorities.
So how evil were they?
Most of the uniforms were made in what can be considered the forerunner to the modern day sweatshop, at times by Prisoners of War. Also, it's impossible to underestimate the importance of those uniforms to the whole Nazi image. To this day, they are essentially synonymous with "evil." The influence of the design has been widespread, especially in film where their influence has been noted in the outfits of the Imperial officers from Star Wars.
But, unlike the products of some other companies on this list, the uniforms weren't directly responsible for killing people. In fact, since they actually made the wearers uncomfortable and smelly for a quarter of the year, relative to the rest of the companies on this list Hugo Boss probably deserves a medal of some sort.
Volkswagen
German automaker Volkswagen came on the scene just before World War II, and was founded by Ferdinand Porsche. He's the granddaddy of those fast and expensive cars that wind up becoming fast and expensive fireballs upon impact with a solid object.
Long before the name Porsche became synonymous with expensive toys for rich people, Ferdinand was the lead designer of the most mass-produced car of all time: the Volkswagen Beetle.
Job with Nazis:
What's more surprising, however, is that Porsche's partner in masterminding the Beetle was also the mastermind of World War II: that crazy, affable buffoon Hitler. Hitler specifically wanted a cheap, sturdy vehicle everyone in Germany would be able to drive. Being the opportunistic businessman that he was, Porsche quickly whipped up the Volkswagen Beetle and lobbied heavily for the Fuhrer's approval. Soon, Porsche had his slave labor factories churning them out by the thousands, and eventually, flying out of dealerships.
So how evil were they?
If anything, the Beetle is perhaps one of the most misconstrued cars in history. People look at its rounded shape and anthropomorphic face and instantly think of love, peace and smoking massive quantities of pot. But, it was really designed as a tool for everyday life in the always-cheerful Third Reich. Give credit to Porsche for designing a car so impossibly cute that we forget it was built by diseased slaves in some dark, dank factory in Stuttgart, Germany.

If you squint, Herbie the Love Bug is sporting a Hitler mustache.