A look back at some of the products from movies and TV that would be less than ideal in the real world.
#10.
Mr. Fusion Home Energy Reactor (Back to the Future trilogy)
Originally, Hill Valley scientist Dr. Emmett "Doc" Brown was forced to cavort with Libyan terrorists to obtain the plutonium that sent his flux-capacitor-powered DeLorean through time. But Brown's first order of business upon arriving in the distant future of 2015 was nevertheless to pimp his quantum-leaping ride with a commercially available reactor that turns garbage into energy through nuclear fusion.
What's Wrong With It?
Safety? Where we're going, we don't need safety. If and when these blender-sized nucleosynthesizers find their way to Kmart, the last place you're going to want to install one is the rear end of your flying DeLorean, lest a common highway fender-bender result in a miniature thermonuclear meltdown in your back seat. Robert Zemeckis' prediction that Mr. Fusions will hit shelves less than eight years from now may have been premature; however, it remains more plausible than the film's 2015 Cubs World Series victory.
Buddy Bands (

Saved by the Bell

)
Here's one request you'll never hear from a consumer: "Gee, I'd really like to be indefinitely tethered at the wrist to Dustin Diamond."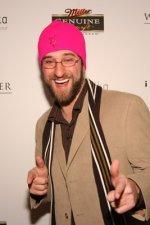 Yet that's exactly what Zack, Screech, Kelly and the rest of Bayside High's brightest achieved when an economics assignment required them to market an original product ("The Friendship Business"). Oddly, the young entrepreneurs chose to disregard the obvious engineering genius of their "friend" Samuel "Screech" Powers, who once constructed a robot so sophisticated it was capable of pity. Hey, Zack and Slater weren't going to take their cues from a dweeb! Anyways, who needs brains when you have Ray Bans and an oversized cell phone?
What's Wrong With It?
The sheer physical awkwardness of attempting to navigate the busy hallways of Bayside while tethered at the wrist to another human being creates a disturbingly high potential for dislocated shoulders and swirly-related drownings. Furthermore, the site of young men joined at the hands would easily increase homophobia among the already ambiguous, neon-tank-top-clad young men of Bayside.
Buzz Beer (

The Drew Carey Show

)
Buzz Beer, a coffee-flavored microbrew concocted by Carey, has the dubious honor of being a business venture as desperate as the sitcom that spawned it would, nine seasons later, ultimately become. Years before Mr. Carey ascended Bob Barker's throne as America's foremost authority on the retail value of jet skis, his loveable crew-cut-wearing desk-jockey "Drew Carey" (not to be confused with the creepy, hooker binging, crew-cut-wearing comic Drew Carey) fixed his thick-rimmed eyes on the beer market with a revolutionary brewing process that essentially involved running a can of Pabst Blue Ribbon through a used Mr. Coffee. Surprisingly, Anheuser-Busch has yet to file for bankruptcy.
What's Wrong With It?
Coffee and beer go together like peanut butter and jelly ... if peanut butter was a powerful stimulant served piping hot at 7 a.m. and jelly was the very depressant that knocked you out in the first place the night before. This contradictory brew is comparable to infusing a refreshing glass of milk with the quenching properties of a tube of warm cookie dough. While not technically the worst thing to ever come out of Cleveland (that distinction belongs to the Browns), Buzz Beer still remains a disgrace to caffeine addicts and alcoholics alike.