Philosopher of rap Ice-T once reflected that "Pimpin' ain't easy." We here at Cracked are inclined to agree. That's why these historical men deserve special commendation for bringing the bling, bitches and beatdowns to their reigns, while laying a stiff backhand across the face of convention and scoring major amounts of tang in the process.
They were, quite simply, the pimpingest men of all time.
The Man:
They had to build a second afterlife for all of the dudes Ghengis Khan killed. He and his army are thought to have killed around 35 to 40 million people. That's a little more than the number of people living in California. He conquered 13 million square miles of land, so the man basically couldn't walk a mile without leaving three dead bodies in his wake.
Pertaining to Poon:
The figures are in, and they're staggering. Reports show that he has fathered the generation that went on to produce .5 percent of the world's population. That's 16 million people. That means for every two people he killed, he impregnated one.
Bling:

That's right. There are TWO feathers in this man's cap. One for murder; the other for fucking. And, it doesn't end there. He's decked out in armor made from, one can only presume, the finest materials. According to this artist, he even has perfectly plucked and highly emotive eyebrows to enhance his "come hither" eyes. He also has a handlebar, people, doubtlessly used by woman for steering this uncontrollable love machine.
Catchphrases:
"No. To crush your enemies, and see them fall at your feet - to take their horses and belongings, and to hear the lamentation of their women. That is the best life." Yeah, you thought that came from Conan the Barbarian, didn't you? Well Ghengis said it first. The screenwriters thought it was so badass, they borrowed it, and Cracked starts every weekday by having every employee chant this in unison.
The Man:
A brilliant tactician, he held more titles than the entire roster of the WWE. As a general in the French Revolution, he handled the artillery and, when he got tired of taking orders, took his old boss's job. As First Consul of France, he waited an excessive five years before claiming himself Emperor (albeit of the French), later ruling over Italy, Germany and, for some reason, Switzerland.
Napoleon revolutionized war, with tactics and formations now used by every single modern military unit in operation. After a conspiracy of haters sent him to exile, he quickly got bored and decided to re-take France all by himself. When the French royalty began mincing their hands over his return, they sent a regiment of his former soldiers to kill him. The regiment joined him instead and marched on Paris, taking it and ruling for another hundred days just to prove he could.
One French minister spat, "This devil of a man exercises an astonishing seduction on all those who approach him." Astonishing.
Pertaining to Poon:
Being French, you'd expect him to score copious amounts of nubile women while still smelling of garlic and having a silly accent. You'd be right, too. His first wife, Josephine, gave him a daughter before he went on a rampaging slamboree, cutting himself generous slices of ass wherever he went. This led her to do much the same. He had a host of bastards to choose from, at least six of which were prominent enough to go noticed. He even had a two-year engagement with a woman called Desiree, who with that name was probably an exotic dancer of some sort.
Bling: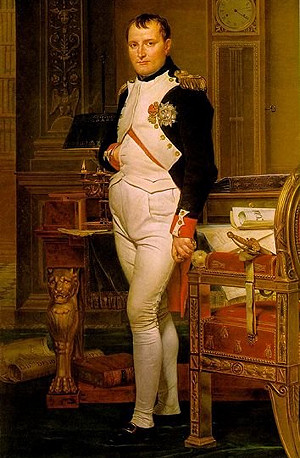 Oh ... oh dear. Well, those frilly shoulder pads sure are ... frilly. He makes up for it with the blingy golden badge on his lapel, as he has obviously declared himself Sheriff of Pimptown. He's poking his hand through his waist coat, as usual, presumably to hold up his dick.
Catchphrases:
This is another category in which he thoroughly outshines the entirety of the WWE roster. Here he is bigging up his seduction skills, "He who knows how to flatter also knows how to slander." And, again with some congratulatory self inflation that would put Kanye West to shame: "I am sometimes a fox and sometimes a lion." Perhaps the most self-assured of all the things he spat in the face of the haters was this declaration of absolute certainty in his skill in the bedroom, issuing a challenge to match his work, "Throw off your worries when you throw off your clothes at night." This seems to be one thing the appropriately nicknamed 'Pole never worried about.
French or not, the evidence is undeniable: He came, he saw, he conquered--in reverse order.