Cracked.com's new book is now on sale. What follows is one of 22 classic articles that appear in the book, along with 18 new articles that you can't read anywhere else.
Have you ever been left with the impression after a thorough poking, prodding and testicular cupping at the doctor's office that perhaps they don't always know what's best? The thought is usually pushed from your mind, after all these people had to go through years of school and thousands of dollars of their wealthy parents' money to get where they are! If you can't trust them about your health, who can you trust?
Here's the thing though, doctors have a long storied background of not knowing what the hell they're doing. History is filled with stories of hilarious medical ineptitude, and in all likeliness, today's medical practices will be similarly snorted at 100 years down the road. In other words, if you're looking to justify your medical phobia so you can rationalize not getting that ever-growing lump on your neck checked out, you're in the right place.
Children's Soothing Syrups
In the 19th century, people were simply too busy churning butter, waxing their moustaches or changing in and out of 15 layers of undergarments every time they went to take a piss to be bothered with disobedient children. To aide the stressed 19th-century mother, a series of "soothing syrups," lozenges and powders were created, all which were carefully formulated to ensure they were safe for use by those most vulnerable members of the family. Oh, no, wait. Actually, they pumped each bottle full of as many narcotics as it could hold.
For instance, each ounce of Mrs. Winslow's Soothing Syrup contained 65 mg of pure morphine.
Based on our experiences teething and experimenting with pure morphine, that seems like a lot. Finally in 1910 the New York Times decided the whole narcotic-babysitter concept was probably bad in the long run, and ran an article pointing out that these soothing syrups contained, "...morphin sulphate, chloroform, morphine hydrochloride, codeine, heroin, powdered opium, cannabis indica," and sometimes several of them in combination.
You can't say the soothing syrups weren't effective, as long as you didn't mind your toddler being strung out on the midnight oil or, you know, dead. That's right, the terrible 2s weren't just a cutesy euphemism back then. Kids were not only at their brattiest but also often died, in many cases after their parents tried to cure the aforementioned brattiness with narcotic concoctions that would give Lindsay Lohan a nose bleed.
The Curative Powers of Mercury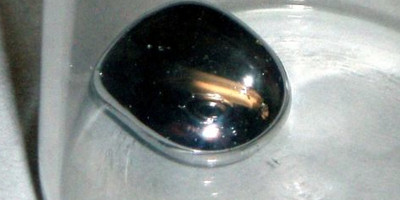 Mercury is pretty neat stuff. The shiny silvery liquid has fascinated humans for millennia (there's evidence people used it as early as 1500 BC) and will undoubtedly continue to fascinate far into the future when shape-shifting Robert Patrick clones overtake the planet. How could something so awesome not be good for you?
That was the thinking for centuries, when Mercury was used to treat pretty much anything and everything. Scraped your knee? Just rub a little mercury on it. Having some problems with regularity? Forget fiber, time to get some mercury up in there! If you lived more than 100 years ago, you simply weren't considered healthy if you weren't leaking silver from at least one orifice.
Mercury, as we now know, is toxic as hell. Symptoms of mercury poisoning include chest pains, heart and lung problems, coughing, tremors, violent muscle spasms, psychotic reactions, delirium, hallucinations, suicidal tendencies, restless spleen syndrome, testicular twisting and anal implosion. OK, we just made the last few up, but they barely looked out of place on that horror show list of symptoms did they?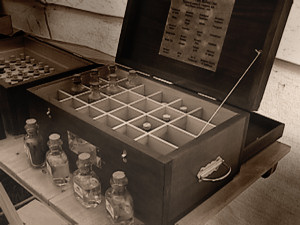 It's a testament to just how cool a substance Mercury is that people kept trying to cure shit with it for 1,000 years after everybody who ingested it dropped dead. "Yes my Lord, I'm afraid another member of your court has perished. The autopsy showed it was Silver Liver Syndrome. Not even the gallons of wicked-awesome Mercury we fed him could bring him back to health."
There was a silver lining, though, as it helped to fight the spread of STDs. Mercury was used as a cure for syphilis and to its credit, the "cure" usually resulted in one less person with syphilis in the world. It's generally believed Mozart was poisoned by mercury-based syphilis cures, which contradicts the film Amadeus in which he was killed by writing too much music somehow.