Look, Hollywood, we understand that film is a different medium than comic books. We realize that changes must be made, storylines streamlined, art design massaged. The inner nerd in us can even forgive annoying details like Peter Parker developing webbing rather than inventing it.
But, there are some films that we cannot forgive. These strike at the very core of the comic, and take everything we loved and beat them into submission with a club made of crappy CG, crappier screenplays and a whole lot of greed and apathy.
Ang Lee, the man who brought you the tender, soul-searching gay cowboy movie and the tender, romantic epic about how Chinese people can fly thought he'd be a perfect fit for a movie version of a story about a simple, inarticulate brute who punches tanks.
He wasn't.
The comic: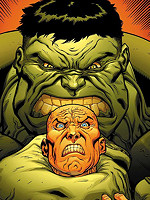 Bruce Banner gets blown up by a gamma bomb, and spends each issue turning into the Hulk and beating the shit out of military personnel and supervillains. Sometimes, he becomes king of a planet by beating the shit out of aliens.
The movie:
The movie spends an inordinate amount of time developing the character of the Hulk's dad (David Banner) and in general plods along for an hour before the Hulk appears and punches stuff. David Banner winds up as both the film's main villain and the second-craziest public appearance ever turned in by Nick Nolte.
David Banner's dangerous experiments on himself, combined with Bruce's being bombarded with gamma radiation and some nanobots thrown in for good measure (read: "no reason") result in his turning into The Hulk.
Why did they change it?
There seemed to be a real effort to make this comic book movie psychologically cogent and scientifically realistic (The Hulk is now the result of some kind of genetic nanobot tampering). The award-winning Ang Lee apparently saw a comic with Hulk body slamming a 747, screaming "HULK SMASH" and decided this would be a good vehicle to delve into psychological themes about what it means to be human.
Did it work?
It almost worked, until a the giant mutant dogs showed up. Sure, they gave the Shrek-like CGI Hulk something more fake-looking then himself to fight, but that didn't stop them from being totally and pointlessly retarded.
Word-of-mouth for the movie was so awful that it holds a record for biggest drop in ticket sales after the opening weekend. That's the Hollywood equivalent of running in a touchdown on the first play of the Super Bowl, and then having your pants fall down on every subsequent play.
But, if nothing else, the movie should be credited for pioneering that wicked picture-in-picture technique that has since been used in a number of comic book films. And it helped administer the final deathblow to Nick Nolte's film career, freeing him up for much more entertaining activities. But, nothing will ever make up for those retarded mutant dogs.
Sylvester Stallone plays Judge Joe Dredd, sociopathic administrator of future justice who must face mutants, lawless citizens, a crazy cloned brother, corrupt officials, owning only one outfit (which has a gold eagle's head on the right shoulder), and having a ridiculous accent. He faces these things by shooting them.
The comic:
Comic book Judge Dredd was an abstract figure, a Dirty Harry-esque symbol that allowed his (British) creators to lampoon and analyze totalitarianism, fascism, complex legal issues and ironically dissect the archetypal violent American action hero.
The movie:
Stallone, famous for roles where he beats people unconscious and kills them with hunting knives, predictably focused more on the "archetypal violent American action hero" part, and left out the irony.
The character in the comic is never unmasked (emphasizing the "abstract figure" thing) but, when producers are paying $10 million to get Sylvester Stallone in their movie, they're going to want to see that piercing gaze and gorgeous saggy lip of his in all its glory, so the mask came off. That gives you an idea that this was no a Judge Dredd movie and was in fact a Sylvester Stallone movie.
Why did they change it?
In 1995, the ratio of Sylvester Stallone fans to Judge Dredd comic fans was about 1 million to 0. So, Judge Dredd simply became a costume for Sly to wear.
Did it work?
Judge Dredd's original comic, 2000 AD, and his huge catalog of subsequent comic series, spinoffs and trade paperbacks are complex and influential enough that he's still brought up in Britain during debates about issues like police states and rule of law. In America, Judge Dredd is usually only brought up when you and your roommates are bored on a Wednesday night and keen to invent a new drinking game. Here's a good one: Drink every time Dredd says, "How do you plead?" "I knew you'd say that" or screeches the word "law" while spit flies from his distended mouth. You'll all be getting your stomachs pumped within 20 minutes.
The story behind the comics, as it turns out, doesn't work after you strip out every element except for the name of the character. The movie cost $90 million to make and grossed $35 million in the United States.