Great music can inspire us to do anything: love one another, protest an unjust war, make sweet, sweet love to a large black man in the 1970s.
But in the '80s there were a series of songs that inspired us to kick ass in every way possible. None inspired more ass kicking than these.
"The Final Countdown" by Europe
The synthesizer riff in this 1986 track is as fist-pumping as music gets without involving an actual instrument. We're not clear on what he's counting down to, but somebody's about to get their ass kicked. If we were wrestlers and it was 1986 again, we'd totally have this as our intro music.
The Only Way It Could Be Better:
The song takes a sharp decline after the chorus, when it slips from the vaguely threatening line "It's the final countdown!" into sci-fi-gibberish wails like "we're heading for Venus, and still we'll stand tall!"
"The Final Countdown" needs some serious trimming. If a remix were to come out that consists only of that synthesizer riff and the cry of "It's the final countdown!," it would doubtlessly rank higher on this list. But, hey, it's European. Just be grateful it's not about scat fetishes and exceedingly thin cigarettes.
Also, let's face it. That distinctly '80s synthesizer sound didn't exactly age well. Those too young to remember the Cold War, in fact, tend to laugh upon hearing it.
Best Things to Do While Listening:
Any activity which may seem like a good idea initially, but soon becomes completely ridiculous. May we suggest Ultimate Frisbee, riding a pocket bike or watching the second season of Lost.
"Wanted (Dead or Alive)" by Bon Jovi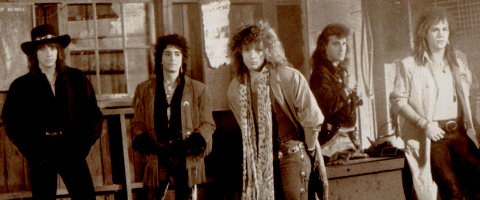 This song was written in that small window of the '80s when a blue collar steelworker from New Jersey with a terminal case of hockey hair could write songs about being a cowboy and be taken seriously. It was a very small window; it really only encased this one song. When he tried to repeat its success with "Blaze of Glory," the whole thing became laughable (when Bon Jovi insists that he is a "Colt in your stable," a lyric which may be the most unintentionally gay thing anybody ever said, ever, throughout time).
Still, in "Wanted" when he throws up his fist and says he's seen a million faces and rocked them all, we believe him. We want to spend the rest of our lives rocking faces.
The Only Way It Could Be Better:
The song is a bipolar narrative, with Bon Jovi emotionally wandering from the depths of the deepest stone-washed denim blues to the highest peak of cock-rocker euphoria. One minute he's lamenting "Sometimes you tell the day/By the bottle that you drink/And times when you're all alone all you do is think." Then almost immediately extolling that he s rocked all those aforementioned faces.
Incidentally, if you have had your face rocked at any point by Bon Jovi, please seek prompt medical attention. It is highly probable you have contracted something doctors are referring to as "super-chlamydia."
Best Things to Do While Listening:
This is a song best suited for strapping on a six-shooter or saddling up a motorcycle. Anything, really, that one could conceivably do to let others know that you have a large penis and are not afraid to use it.