So, you have to make a sequel, but the original cast wants no part of it. Also, the plot of the first film makes a sequel logically impossible. Are you going to let that stop you? Of course not!
As the below movies prove, you're in good company! Well, you're definitely in company anyway.
Sequel To: Bruce Almighty
Tenuous Connection:
Evan Baxter, the anchor from the first movie. Oh, and God.
Plot Summary:
Congressman Evan Baxter is told to build an Ark, and he has to do it using ancient tools, because God is kind of a dick.
Why It Doesn't Work:

The first movie's premise was an interesting 'what-if' fantasy: "What if you had the powers of God?" Pondering this question while ignoring Jim Carrey as he twisted his stupid face around made Bruce Almighty almost tolerable. Evan Almighty takes this a step further and asks an even more thought-provoking question: "What if you had to build a boat? And also, you had a beard?"
For the sequel, news anchor Evan Baxter has become a congressman. How? Jim Carrey made him say a bunch of stupid crap on live television. You'd think saying "my tiny little nipples went to France" might make the campaign a bit challenging. Shouldn't God have mentioned this to Evan? "Hey, remember when you said a bunch of embarrassing stuff on live television, and how it's haunted you every day of your life, since it's totally unexplainable and frightening that someone else took control of your body? Yeah, that was my fault."
That's just the beginning of the dickishness from Evan Almighty's God, who presumably could have used His powers to prevent the flood, rather than have Evan build a stupid-ass boat. It's almost like they found it hard to write a family comedy based on the time God got mad and drowned the entire planet.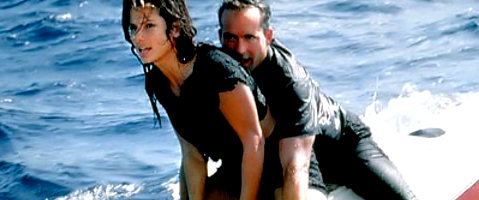 Sequel To: Speed
Tenuous Connection:
Annie, the girl that wound up driving the bus in the first movie.
Plot Summary:
Annie takes a cruise with her boyfriend, but Willem Dafoe is pissed off for some reason and he hijacks the ship!
Why It Doesn't Work:

What are the chances that this poor woman winds up on a vehicle that gets hijacked by a crazy terrorist played by an actor too good for the role twice in her life? Really, if your trip gets interrupted by a guy with a bomb as second time, the problem isn't terrorism. It's you.
Jason Patric plays Annie's useless cop boyfriend, a role that was clearly written for Keanu Reeves and thus probably contained directions to react to every situation with an expression of dull confusion.
Of course, the most glaring problem is that the movie is called Speed and yet takes place on a cruise ship, the slowest form of transportation ever devised by man. Will Speed 3 be about a bomb on a hot-air balloon? A donkey? A Segway scooter? It almost seems like they came up with the clever 'Cruise Control' pun in the title, and wrote the movie around it.
Really, Bullock should have known something was up when Keanu turne down the role. If the guy who starred in a sequel to Bill & Ted's Excellent Adventure passes on a movie script, you probably want to stay the fuck away.