So, let's get this straight: A baseball player gets caught using steroids, and suddenly Congress puts the whole government on hold to have hearings about it. But, if a rapper uses steroids, apparently we're supposed to think it's no big deal.
Well, it's a big deal to us, and we're sensing a gross double standard, here. We're going to blow the lid off a steroid scandal that stretches far and wide in the world of non-athletes, and we're not going to let our total lack of evidence slow us down.
Dr. Dre
Before & After:
Here's Dre in the studio, looking like a fat kid who just got busted up to his forearms in leftover birthday cake ...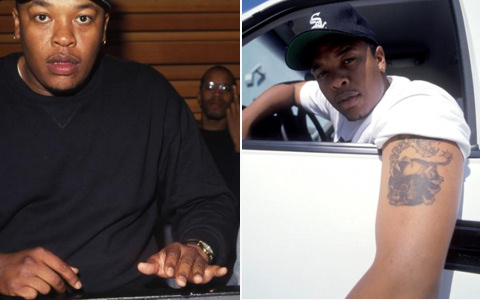 ... and here's Dre presenting at last month's VMAs. We had to embed the video because pictures just don't do it justice.
His muscles were so unexpectedly huge. His formerly fat head is so disproportionately small compared with the rest of his body. And, the long, grey underwear shirt is such a bizarre choice for a hip-hop mogul, that we were literally positive he was wearing Kevin Nealon's costume from the Hans and Franz sketch.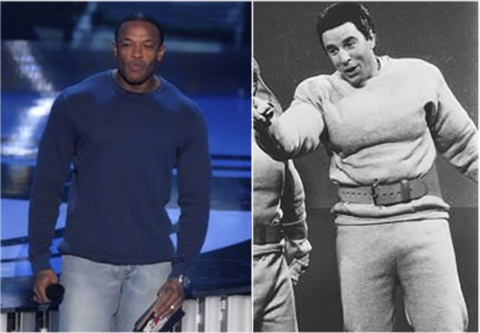 We're still not 100 percent convinced that he wasn't.
He Claims:
He's spent two hours in the gym everyday for the past four years.
So Is It Steroids?
A Los Angeles Times article reports he has cut his body fat from 29 percent to around 6 percent in the last few years, and also describes Dre pumping his arms and saying, "I feel like I can kick a brick wall down now." Nope, everything sounds pretty normal there.
The ridiculous "I'm not on steroids, I just spend all of my time in the gym" argument is a classic denial strategy that has been employed by the likes of Barry Bonds and Lance Armstrong. It's basically the equivalent of saying, "I'm not on cocaine because I stay up all night dancing like a douche bag and gritting my teeth." We bet this guy spends a lot of his time in the gym, too.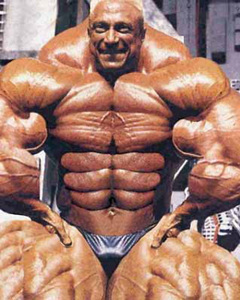 While the L.A. Times article doesn't come down on either side of the steroid debate, we're going to side with the hip-hop bloggers, who have taken the much bolder stance of, "nigga look like the incredible hulk. gay shit," and more specifically, "yeah dre is full off that act right JUICE. Lol".
Couldn't have said it better ourselves.
Why Would He Do It?:
From 50 to the Game to Busta Rhymes, Dre's entire Aftermath label is full of guys who look like, and wear shirts about as often as, professional wrestlers. Regardless of the reason, it makes us long for the days when rappers wore North Face in the summer and let their glocks do the talking for them.
Carrot Top
Before & After:
In Chairman of the Board Carrot Top was just a skinny guy surfing his way through corporate America in eye-damaging clothing ...
... then he played the scrawny guy in no less than 1,000 AT&T ads.
Then, possibly in preparation for a joke that involved some especially heavy props ...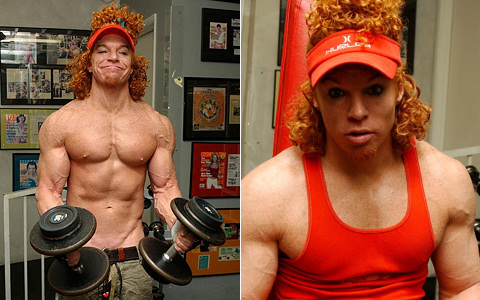 ... he turned himself into a monster from a horror movie.
He Claims:
Well, he has this video which is supposed to detail his diet and workout routine. However, Top seems confused by the high-protein cooking ingredients and doesn't seem to know how to work most of the exercise machines.
Incidentally, the video was also advertising a product called "Plasma Ball," which we almost ordered because we thought it would let us shoot balls of energy like in Street Fighter 2. It turns out it's just a workout supplement.
So Is It Steroids?
In body builder slang, vascularity is the degree to which your veins bulge through your skin, and according to the body building forums we frequent, the veins bulging from CT's arms, shoulders, neck, face and eyeballs indicate he's getting chemical assistance other than the two-drink minimum at the comedy club.
Then again, this is the same body building forum where someone said, "Like or hate his shtick, it's pretty physical so I can see where he'd have to be in shape." So, we may not be dealing with guys with MDs behind their names, here.
Why Would He Do It?:
We couldn't figure out why a comedian would need to make himself so physically imposing. Then, we put it all together.
He's got a nickname that corresponds to his looks;
His incessant visual punning gives him an annoying gimmick;
He appears to have some recent chemical burning of his face and corresponding spackle makeup.
That's right: Carrot Top is a Batman villain.