,
It's hard to know what the future will bring, whether it be horrors or some kind of previously unimaginable superhorrors, but we know some things you can always count on. Like advertisements.
We asked you to photoshop us some post-apocalyptic ad campaigns. The winner is below, but first, the runners-up:
#15.

by FoodStampDavis
#14.

by Yawn-Malice
#13.

by Camerhil
#12.

by claypots
#11.

by Sanchez
#10.

by Veiko
#9.

by Camerhil
#8.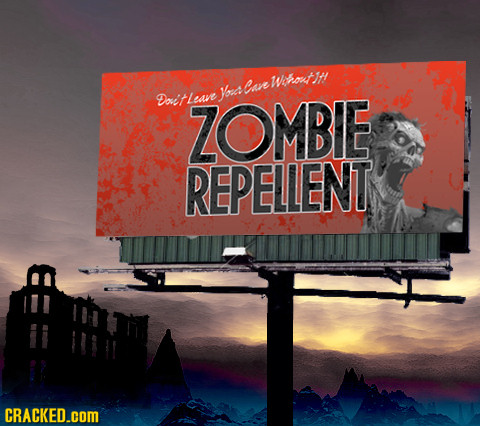 by usingpond
#7.

by BlairlyThere
#6.

by Camerhil
#5.

by lokimotive
#4.

by nmanguy
#3.

by Glenn
#2.

by somedevil
And the winner is...

by boredatwork
Congrats, boredatwork. You win money.
Want in on this?
You'll have another chance. This week's Photoshop contest theme is:
Most Ill-conceived Breakfast Cereal Ideas.
Post your entries in the forums.
If you'd like to see the other entries from this week that didn't make it, you can find them here. Then enjoy the winners from last week's Photoshop contest that showed you some 30 Error Messages You Never Want to See.
Got an idea for a future Cracked photoshop contest? Let us know. ,
Recommended For Your Pleasure