Where Are They Now? The 5 Strangest Post-'Star Wars' Careers
Denis Lawson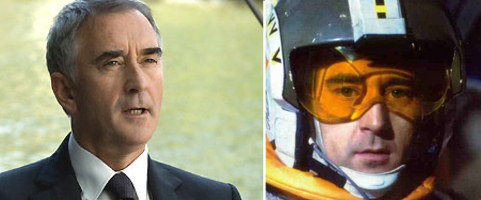 The character:
Rebel X-Wing Pilot Wedge Antilles
The actor:

According to his official (meaning Wikipedia) biography, Denis Lawson was born in Crief, Perth and Kinross, which we are choosing to believe means he left three separate wombs, in thirds, and was assembled later.
His father was a watchmaker and his mother sold sweets, making him by far the member of the Star Wars cast with the childhood most like a Hans Christian Anderson story. He's also the only member of the Star Wars cast to have his name misspelled in the credits (twice!), giving him full automatic rights to the title "unsung."
Get this: Ewan MacGregor, Obi-Wan Mark 2, is his nephew! We imagine family reunions are pretty awkward, what with Uncle Denis telling stories about "the good old days with Alec" as soon as he's got a few shots in him.
Inestimable contribution to the films:
Was the only minor character to survive all three movies, despite being present at both Death Star attacks and being likable yet expendable, usually a recipe for poignant death.
Most memorable line:
"My scope shows the tower, but I can't see the exhaust port!"
Best Youtube video featuring character:
This is a keen dance number, in which Wedge leads the gang in a victorious celebration of the Rebel victory over the evil Empire.
Weirdest merchandise based on character:
This Topps trading card from 1996, featuring Wegde in a shimmering bodysuit on what appears to be planet Hoth, if it were struck with a beam that made everything into rainbows.
Best excerpt from Wikipedia entry on character:
"At this time the unworldly scientist Qwi Xux, primary designer of the Death Star, appeared in Wedge's life, and the two were involved romantically for several years, during which Kyp Durron's Force-mindwipe changed her life for better or for worse. Barely hours after the break-up, Wedge found himself en-route to Adumar as a pilot/diplomat for the New Republic; there he met Iella Wessiri again, and after a few false starts, the two became officially engaged."
Best excerpt from Wikipedia entry on actor:
"He recently appeared on an episode of "Loose Ends" hosted by Ned Sherrin on BBC Radio 4 (December 10, 2005), during which his cell phone rang."
Where is he now?
Lawson is one of the few to have actively resisted the siren's call of Star Wars reprisals, denying a request by Lucas to play Capt. Antilles, a character "totally unrelated" to Wedge, in Episode III. Sorry George, we guess he saw Episode II.
Lawson has had an extremely healthy career in BBC television, appearing in more than 20 series between now and then. In fact, he's still considered a celebrity in London, but as a master of musical comedy. Admittedly this is not as cool as being known as a sci-fi fighter pilot, but it's a damn sight better than being known as one of the 30 guys who hasn't done anything since the '70s. Now if only he'd star in a musical comedy about the life of Wedge Antilles.
Mark Hamill Career Sadness Rating: 10
On one hand: he turned down Lucas and the chance to cash in once again on his old role. On the other hand: musical theater.
David Prowse
The character:
The body of Dark Lord of the Sith Darth Vader
The actor:

Before playing Vader, the staggering 6--foot--7 inch weightlifter appeared in several films as Huge Muscular Guy.
Our favorite role has to be Green Cross Code Man, a hero invented by the BBC to encourage kids to follow street lights when crossing the street. A video of Prowse as Green Cross Code Man can be seen here. Thrill as he allows two small children to nearly get hit by a car, just to teach them a lesson!
Inestimable contribution to the films:
He intimidated everyone while simultaneously allowing James Earl Jones to perform his role from a booth in his underwear.
Most memorable line:
Technically, he had no lines. Even sadder, Prowse apparently wasn't aware James Earl Jones was slated to overdub his voice, and got quite pissed about his being replaced in post production.
Best Youtube video featuring character:
Tough to call, as the videos of Darth playing the blues and being a smartass are both hilarious in their own right. But, for our money the funniest Vader vid has to be the one below, in which the beleaguered Sith Lord finally snaps under pressure.
Weirdest merchandise based on character:
Darth Tater is the only member of the Potato Head species that has spent a lifetime hunting down and murdering Jedi Knights.
Best excerpt from Wikipedia entry on character:
"Darth Vader appeared in the commercials for Energizer where Emperor Palpatine (who is shown with a battery for a right eye) instructs Darth Vader to get the Energizer Bunny's battery. When Darth Vader attacks with his lightsaber, the Supervolt batteries in it run out."
Best excerpt from Wikipedia entry on actor:
"In a television interview he related how his response to being told 'We've found our Superman' was 'Thank you very much.' Then he was told that Reeve had been chosen and he was only to be a trainer."
Where is he now?
As mentioned above, Prowse worked as a trainer whipping Christopher Reeve into shape to play Superman. He also trained Cary Elwes to play Westley in The Princess Bride. Unlike most typecast actors, Prowse seems to love his most famous role, still attending conventions to discuss the films and even heading the 501st legion, a group of Star Wars costuming fans.
Mark Hamill Career Sadness Rating: 96
Despite his total succumbing to the geek world, Prowse can't seem to get the recognition he so deeply craves. He even appeared as Vader in two fan films for website Order of the Sith, yet his lobby to get to play Vader in Episode III was denied, and he was excluded both from the Star Wars reunion documentary Empire of Dreams and the famous Star Wars cast photo for Vanity Fair.
This is how the guy gets treated? He makes millions for George Lucas, and these days Lucas can't drive past him without chucking a beer can at him and cackling as he drives away?
Well, we appreciate you, Prowse. And, when we watch the original trilogy, we'll always imagine you behind the mask instead of Hayden fucking Christensen.